#7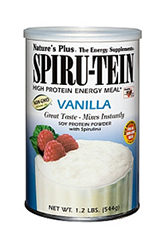 Spiru-Tein is a meal replacement shake available in 25 different flavors, and with non-GMO ingredients. It's made with 14 grams of plant-based protein.
It claims to provide ample nutrition to help support healthy weight loss. The manufactures also add that this brand has heart healthy ingredients, which can promote overall health. In reviewing Spiru-Tein there was plenty of important information uncovered.
Spiru-Tein Shake Review
This shake has a 14-gram blend of several kinds of protein. It's also low in calories with their average flavor providing 99 calories per serving.
The protein added comes from 4 different sources:
Rice Protein: Usually provides an off-putting taste according to users of rice protein, it's low in the essential amino acid lysine. This amino acid helps to create energy in the body. Rice protein can cause digestive issues due to its rapid digestion, this includes:
Diarrhea
Nausea
Stomach discomfort
Pea Protein: Extract of the legume peas, this is known to contain high levels of what's known as purines. These purines create uric acid which when eaten in excess can lead to inflammation and gout. It has low levels of the amino acids methionine and cysteine. It's often mixed with rice protein to make up for its lack of essential amino acids.
Soy Isolate Protein: Defatted soybean that is at least 90% protein by weight. Though it's high in amino acids, soy has been criticized for its potential for side effects. Soy contains the following:
Phytates: Antioxidants that can bind to minerals such as calcium and magnesium. This can cause slow or improper absorption.
Phytoestrogens: Estrogen like compounds that can either increase or decrease this hormone. This can cause unwanted side effects in both men and women that include increased risk for baldness, mood swings, and loss of testosterone.
Isoflavones: Similar to estrogen, it may increase the risk for hormone sensitive cancers such as breast cancer. The University of Maryland Medical Center mentions how it:
Pros:
Available in 25 different flavors, it's made without GMO ingredients, and it's available in many stores.
Cons:
High in sugar, has no added fat, and it has potentially harmful soy.
"may stimulate the growth of breast cancer cells"
"may lower the amount of iodine in the body"
Low levels of iodine can lead to thyroid issues. The thyroid is an important gland that helps control weight and it provides energy to the body.
Fermented Soy: This form of soy is treated and has a higher amount of vitamin K2. It's considered a safer alternative to regular soy, since most of its unhealthy compounds are removed.
The kind of protein added just isn't as beneficial as other alternatives. There's a potential for side effects form the soy, rice, and pea protein, even if they're all GMO free.
There's also no information on the total amino acid profile. This is often the case for plant based meal replacements. Since their amino acid rating is often low, companies will avoid listing the full amounts.
The company offers an interactive map for the nearest locations in your area that carry Spiru-Tein. No set price is offered, so it can change depending on the store.
Amazon.com currently sells a 32-serving container for $43.85. This means the daily cost is $1.37 per one shake.
Though low in cost, this might be due to the low amount of fiber, no fat , and the use of a cheap sweetener.

Sweeteners
A total of 8 grams of sugar are added for the average shake.
This sugar all comes from just one source:
Fructose: Fruit sugar that is considered an unhealthy sweetener. The Louisiana State University ran a clinical study showing that fructose:
"did not help circulating ghrelin"
This means that it does not help with appetite, allowing one to eat lots of it while still feeling hungry.
The University of California Davis also ran study showing it lead to:
"metabolic syndrome, cardiovascular disease, and type 2 diabetes"
A total of 8 grams are added, or 16 grams if you drink 2 shakes a day. This potentially harmful sweetener is not the best option when trying to lose weight, since it's been shown to promote several obesity related diseases.
When taking a meal replacement for losing weight it's important to avoid these kinds of ingredients. It's possible for it to actually promote weight gain, since fructose can be eaten in large amounts without it promoting satiety.
Calories* (99)

4.2/5

Protein* (14 g)

4.6/5

Carbs* (11 g)

4.3/5

Sodium* (140 mg)

3.9/5

Price* ($1.4)

4.5/5

Overall Rating

4.3/5
*per serving
Macronutrients
This product is low in fiber and it has no fat.
Just one single gram of fiber is added which supplies just 4% of the daily value. This means in order to get the required daily dose, one has to eat an additional 92% if one were to drink 2 of these shakes.
Fiber is important for proper digestion and to help with appetite. The Mayo Clinic also adds that a benefit to fiber is:
"helping to maintain a healthy weight"
Also, no fat is added at all. The Mayo Clinic confirms the need for this macronutrient:
"some fats actually promote good health"
"some vitamins… must have fat to dissolve so they can be used by your body"
Without any fats the body will not properly absorb the added vitamins and minerals found in Spiru-Tein. Though fats are often seen as negative, they're very important as an energy source for the brain as well.
The lack of fiber and no fat means that this shake is not well rounded enough to provide a proper meal replacement. That's why Web MD advises a meal replacement with:
"3-5 grams of fiber"
"a bit of fat"
Without these key macronutrients there isn't enough to satisfy as a full meal replacement.
Customer rating: 3.3 / 5 - 38 voted
"This shake looked right for my needs, but it didn't help with hunger.."
Peter Green | 12 reviewers made a similar statement
Conclusion:
This brand has a high amount of protein and it's low in calories, but not all the ingredients added come from a healthy source. There's a potential for increased inflammation, gout, digestive issues, and hormone fluctuations.
There are a lot of nutrients added, but it doesn't make up for the high sugar and non-existent fat, which is needed for proper energy metabolism.
Other meal replacements are much more well-rounded and better for you.
2017's Top Meal Replacement products