#10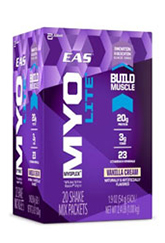 Myoplex Lite Shake Review: Read This Before Buying
It's available in powdered form in Vanilla Cream, Strawberry Cream, and Chocolate Cream. After close inspection, a lot of interesting findings were discovered that are covered in this review.
Myoplex Lite Review
When taking a look at the ingredients list, you'll notice that protein isn't featured first.
Although there's a high amount of protein at 20 grams, the first ingredient is corn maltodextrin. According to Live Strong.com, maltodextrin:
"promoted the growth of unhealthy bacteria"
This then:
"damages the intestine and increased the risk for inflammatory disease"
Pros:
Available in many flavors, contains a high amount of protein, and it's widely available.
Cons:
Contains artificial ingredients, made with GMO soy, and has ingredients that may make weight loss difficult.
When reading a label the most common ingredients are always listing in descending order. This is a FDA standard that makes it easy to see what your food contains more of. Therefore, the bulk of this shake comes from genetically modified processed corn.
The 20 grams of protein comes from 4 unique sources:
Calcium Caseinate: Extracted from the protein found in milk. It digests much slower than whey protein, and is drank by athletes just before bed for a steady amount of amino acids.
Whey Protein Concentrate(Soy Lecithin): An extract of the cheese making process that's around 29% to 89% protein by weight. It contains more carbohydrates and lactose than whey isolate.
Another added ingredient to this protein is soy lecithin, a soy extract made to smoothen the texture and provide a better body to this shake. The GMO Compass organization has confirmed that soy lecithin:
"contained genetically modified soy"
It can also lead to side effects similar to soy.
Soy Protein Isolate: A high protein by weight extract made from soybeans. It's controversial since it's often GMO, and soy itself can produce potential side effects due to the following:
Trypsin inhibation: Found in soy, this can lead to a lack of proper protein digestion in the small intestine and stomach.
Phytates: Known to reduce the proper absorption of minerals.
Phytoestrogens: It can create estrogen in the body, a hormone that can disrupt the endocrine system. It's also known to increase the risk for breast cancer, cause mood swings, and potentially lower testosterone.
Whey Protein Isolate: A form of protein that has at last 90% protein by weight. Most of the compounds other than protein have been stripped.
The company never mentions the amino acid profile, which is important in determining the quality. Although the protein is high in this brand, determining the amino acid score is more important as it shows the overall nutritional benefit.

Pricing
A case of 20 has one serving per packet, and the manufacturer sells directly for $44.08, a 20-day supply.
This averages to a daily price of $2.20 for one shake.
They also offer an automatic renewal plan, but this is often a way to secure people into contracts, which are often hard to escape from.
Considering the quality of shake, this brand is extremely expensive. It's also recommended to add a diet and exercise plan as well.
Sweeteners
There are a total of 3 different sweeteners added:
Corn Syrup Solids: 100% glucose syrup made from dehydrated corn syrup. Louisiana State University performed a clinical study showing that this ingredient:
"may play a role in the epidemic of obesity"
This is because studies have shown it to be stored as fat in excess amounts, and it potentially does not reduce appetite.
Acesulfame Potassium: Artificial sweetener that is 200 times sweeter than sucrose. It's a controversial ingredient that some say requires more studies to confirm its safety. PLOS One released a study showing that it could:
"affect cognitive functions, potentially via altering neuro-metabolic functions"
In this review, lab rats had leptin levels that didn't change. Leptin is an important hormone needed to reduce hunger.
Sucralose: Artificial sweeter that the body cannot digest. It's up to 1,000 times sweeter than regular sucrose. A study by the Nachinohe National College of Technology showed that sucralose:
"induced DNA damage in gastrointestinal organs"
Another study performed by the Journal of Toxicology and Environmental Health revealed:
"Alters Gut Microflora and Increases Intestinal P-Glycoprotein"
This can weaken the immune system as well as produce P-Glycoprotein, which is only released by the body when a potential contaminant is found.
Calories* (180)

4.1/5

Protein* (25 g)

4.6/5

Carbs* (19 g)

4.5/5

Sodium* (380 mg)

3.1/5

Price* ($2.2)

4.3/5

Overall Rating

4.1/5
*per serving
Questionable Ingredients
Already discussed in this review are artificial sweeteners, but there are additional ingredients that may be potentially harmful:
Carrageenan: Red seaweed extract made to thicken, gel, and stabilize other ingredients. It's remained controversial due to studies that show it's potentially harmful. One University of Iowa clinical review showed that it had:
"cancer-promoting effects"
Juntendo University also confirmed these results in their studies that showed:
"carrageenan is carcinogenic to the colorectum"
These two clinical studies confirmed the fact that much more information needs to be known before eating this additive.
It caused tumors in rats that were once healthy and had no history of cancer.
Artificial Flavor: Lab created chemical that mimics the natural taste or smell of a real ingredient.
Other ingredients, which may be of questionable use, are soy protein, soy lecithin, corn maltodextrin, acesulfame potassium, sucralose, and corn syrup solids. All of these ingredients have studies which show they're to be unsafe.
Customer rating: 2.6 / 5 - 51 voted
"Myoplex didn't really help to control my hunger and it has artificial sweeteners."
nikki romano | 12 reviewers made a similar statement
Conclusion:
This brand has a wide distribution and also has a high amount of protein, however, the kind of protein used is potentially damaging since there's GMO soy added.
There are a lot of nutrients added, but it doesn't make up for the high sugar and non-existent fat, which is needed for proper energy metabolism.
They also include many artificial and processed ingredients that may actually prevent weight loss. Much better options are available that come from all natural, soy GMO free ingredients.
2017's Top Meal Replacement products